Every year, companies develop new toys and games for education. Most of them have intricate plastic parts. Some come with all the bells and whistles. Many have been designed for a few specific purposes.
While these toys may play a role in your child's education, you may end up spending a lot of money, but not receiving much educational value.
Wooden toys, however, often have much more to offer children than the latest fashionable educational toys. Here are 15 benefits of wooden educational toys for home education.
Wooden toys are timeless
Of course, wooden toys are fashionable in their own right. In fact, they have been in fashion for decades, if not centuries. Their grandparents and great-grandparents were learning with wooden toys when they were little and their grandchildren and great-grandchildren can also learn with wooden toys.
While there is a lot of fresh, new educational products out there, sometimes there is value in sticking to the tried and true. Even if companies reimagine the organization, color or design of their wooden toys, they still have the same classic feel and offer the same educational benefits that children have been reaping for generations.
Wooden toys are durable
Let's face it – children are hard on their toys and other educational materials. It is likely that there will be missing pieces of play and at least one broken toy around your house. Not only can wooden toys be enjoyed for generations, but the same wooden toys often last for generations.
Since they are made of quality wood and are solid, it is difficult for them to be damaged beyond the basic scratch or dent. If your child messes them up, you can easily clean them so they are ready for the next learning activity. If you are going to invest in learning products for your home, you want to be sure that they will last a long time and that they can be used with multiple children.
Wooden toys grow with your child
When you invest in wood toys for homeschooling, you invest in something that is durable and versatile enough to grow with your child.
Toddlers and preschoolers can engage in simple pretend play and basic manipulation with wooden toys, but older children can begin to incorporate wooden toys into more complex pretend scenarios, work them into geometry and physics discussions, and use them to solve problems.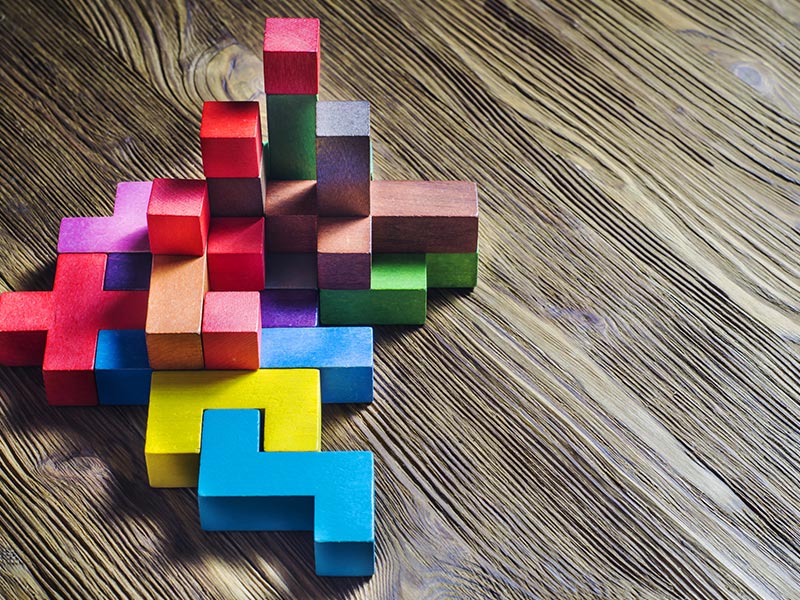 As your child's mental skills and abilities grow, so do the uses of wooden toys. While many home education products come with suggested age ranges on the front, the ways that wooden toys can be used are so versatile that they can connect to a wide range of ages and ability levels.
Wooden toys enliven the imagination
Wooden toys give children the ability to take control. While some wooden toys come in the form of vehicles, food, or common household items, they still encourage children to use their imagination to incorporate them into learning and play.
Other wooden educational toys come in basic shapes, such as sticks, blocks, arches, triangles and circles. These basic shapes allow children to really explore their uses and come up with creative ways to use them in different subject areas.
For example, children can experiment with physics by building different structures with wooden toys or learn about geometry by manipulating toys to create their own geometric patterns.
While learning resources can provide ideas for using wooden toys to educate your child at home, they are just a starting point, a way to arouse your child's interest before letting them emerge with even more creative uses.
Younger children, in particular, can adapt virtually any object to any setting. Since most wooden toys don't come with a preconceived purpose, they encourage children to stretch their imagination even further.
Wooden Toys Incorporate Real Life Skills
As children engage in imaginative play, much of it will tend toward real-life scenarios. For example, children may have wooden toys in the form of food and common household items to use while playing a home game or grocery store. Even if children only have basic shapes, they can begin to use wooden toys and their imagination to build real-life skills.
For example, wooden chopsticks can become coins when they buy and sell other wooden objects. Red circles can turn into strawberries and blue circles can turn into blueberries while preparing a wooden fruit salad.
Wooden toys are less distracting
When children play with wooden toys, they provide all voices, alarms, and other sound effects, rather than listening to the toy. This allows children to be in control of what they do with toys and to keep their minds clear as they think of different scenarios or solve problems.
While some children actually enjoy toys with all the bells and whistles, noises and electronic features can interrupt a child's thinking process or limit the distance a child's imagination can box them into specific ways of playing with the toy.